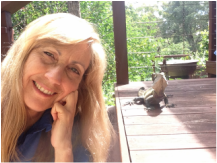 Maree McCarthy
Supporting Earth to 'sing her songs'.
.. this means wherever you are on Planet Earth, there is a special ancient history that belongsMM only there! Listen and you will hear that deep ancient Dreamtime Story that tells of a continuum between the past and now, far and near.
Maree has dedicated her whole life to creating amazing natural spaces for individuals and large organisations to enjoy, you could say that "Botanical" is her native tongue. With over 20 years experience in sustainable garden design, creation and management, Maree's expertise in living sustainably includes searching out truly ethical and
organic products
. Native garden sustainability and conservation also ensures that her garden designs have a solid foundation in biodiversity and in supporting native habitat.
With her focus firmly on Native flora and fauna conservation, sustainable living as a whole is the key to her way of life. Her own garden while being very low maintenance, is a glorious mix of native plants and edible wonders - dripping in oranges, native plums, macadamias, herbs and much more.
Maree is passionate about sharing her extensive knowledge and is part of the local sustainability community in the Newcastle area.
Access her excellence with private consultations for domestic and commercial space overhaul or creation, as well as guidance and maintenance of existing gardens.
Want to connect with Maree? Call 0410 405 815 or email
dragons@naturesmagic.com.au
. Check out our
facebook page,
organic products
(
www.mmccarthy.mionegroup.com
) and
Houzz inspirational ideas book
. I'll help you design your very own space of wonder!
---